Posts for tag: dental exam
By Greenbelt Smiles
December 04, 2019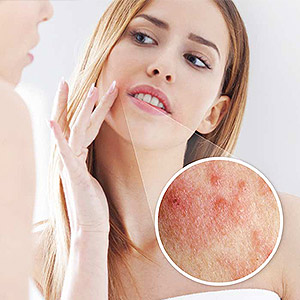 During your latest dental cleaning and checkup, your dentist notices a skin rash around your mouth. You sigh—it's been going on for some time. And every ointment you've tried doesn't help.
You may have peri-oral dermatitis, a type of skin rash dentists sometime notice during dental treatment. It doesn't occur often—usually in only 1% of the population—but when it does, it can be resistant to common over-the-counter ointments.
That's because peri-oral dermatitis is somewhat different from other facial rashes. Often mistaken as acne, the rash can appear as small red bumps, blisters or pus-filled pimples most often around the mouth (but not on the lips), nostrils or even the eyes. Sometimes the rash can sting, itch or burn.
People with peri-oral dermatitis often try medicated ointments to treat it. Many of these contain steroids that work well on other skin conditions; however, they can have an opposite effect on peri-oral dermatitis.
Because the steroids cause a constriction in the tiny blood vessels of the skin, the rash may first appear to be fading. This is short-lived, though, as the rash soon returns with a vengeance. Prolonged steroid applications can also thin the affected skin, making it more susceptible to infection and resistant to healing.
Peri-oral dermatitis requires a different treatment approach. The first step is to stop using any kind of steroidal cream, as well as moisturizers, ointments and both prescription and non-prescription medications. Instead, you should only use a mild soap to wash your face.
You may find the rash looking worse for a few days but be patient and continue to avoid ointments or creams. Your healthcare provider may also prescribe oral antibiotics, usually of the tetracycline family. It may take several weeks of antibiotic treatment until the skin noticeably clears up.
For most people, this approach puts their rash into permanent remission. Some, though, may see a reoccurrence, in which case it's usually best to repeat treatment. With a little patience and care, though, you'll finally see this persistent rash fade away.
If you would like more information on peri-oral dermatitis, please contact us or schedule an appointment for a consultation.
By Greenbelt Smiles
October 20, 2018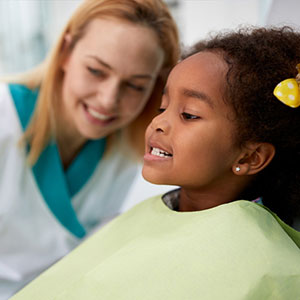 When does dental care begin for a child? In the truest sense, before they're born. Although the first teeth won't erupt until months after birth, they're already forming in the baby's jaw while still in the womb.
During the prenatal period a baby's dental health depends on the mother's health and diet, especially consuming foods rich in calcium and other minerals and nutrients. Once the baby is born, the next dental milestone is the first appearance of primary teeth in the mouth. That's when you can begin brushing with just a smear of toothpaste on a toothbrush.
Perhaps, though, the most important step occurs around their first birthday. This is the recommended time for you to bring them to visit our office for the first time.
By then, many of their primary teeth have already come in. Even though they'll eventually lose these to make way for their permanent set, it's still important to take care of them. A primary tooth lost prematurely could cause the permanent tooth to come in improperly. Saving it by preventing and treating tooth decay with fluoride applications and sealants, fillings or even a modified root canal treatment could stop a bad bite and costly orthodontic treatment down the road.
Regular trips to the dentist benefit you as a caregiver as much as they do your child. We're your best source for information about dental health and development, including concerns like teething and thumb sucking. We'll also keep you informed on your child's growth process as their teeth, jaws and facial structure develop.
Beginning regular dental visits at age one will also help make your child comfortable with seeing the dentist, more readily than if you wait until they're older. It's an unfortunate fact that many people don't seek out the clinical dental care they need because of anxiety over visiting the dentist. Starting early, not only will your child be getting the best in dental care, they'll be developing a habit that can continue to benefit their oral health the rest of their lives.
If you would like more information on your child's dental care, please contact us or schedule an appointment for a consultation. You can also learn more about this topic by reading the Dear Doctor magazine article "Age One Dental Visit."